Bonita Springs Motorcycle Accident Attorney
Injury Lawyer Fighting for the Rights of Injured Motorcyclists
Injured in a motorcycle accident in Bonita Springs? Although riding a motorcycle can be one of the most exhilarating of experiences, it can also be highly dangerous. Statistics show that when a motorcycle is involved in a collision, the rider will be injured three times more often than the occupants of the vehicle, and are fourteen times more likely to suffer a fatal injury.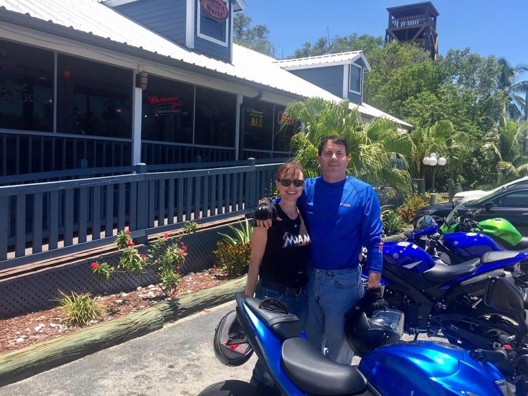 Whether you have personally suffered catastrophic injuries or if you want to sue for the wrongful death of a loved one in a tragic motorcycle accident, contact us at Pittman Law Firm, P.L. for a free initial consultation to discuss your legal options and learn how much your case is worth.
We are a family run law firm, and are dedicated to defending rights of accident victims and their loved ones. Let us fight to help you recover the financial compensation you deserve!
Motorcycle Accident Injury Claims in Bonita Springs
Motorcyclists and their passengers are at risk of suffering catastrophic injuries in a crash, as they have none of the protection of an automobile —no seatbelts, no airbags, no steel chassis—only a helmet and maybe some other personal protective equipment. Broken bones, extensive road rash and soft tissue damage are common in motorcycle accidents, as well as debilitating traumatic brain injuries and spinal cord injuries.
For this reason, we represent clients who have been seriously injured in motorcycle accidents in order to ensure they receive the full and fair amount of compensation they are entitled to after a crash. Injured motorcyclists may find it difficult to secure compensation on their own for numerous reasons—they may be dealing with the pain and challenges of a debilitating injury, inexperienced in legal matters, being given the run around by insurance companies, or enduring other hurdles due to the stigma most bikers are sadly subjected to. AtPittman Law Firm, P.L., our motorcycle accident lawyers will take care of the claims process for you so you can bypass the stress and trouble of filing an injury claim by yourself.
Recoverable Damages Following a Motorcycle Accident
If you or a loved one is suffering from serious injuries after a bike crash, such as a traumatic brain injury or a spinal cord injury, you may be facing incredibly costly medical bills—not to mention other challenges. A serious injury can be a burden financially, physically, and emotionally. Catastrophic injuries, such as quadriplegia or the loss of a limb, are the costliest and most challenging because these injuries put victims out of work and require long term treatment and care, sometimes for life.
Fortunately, if you file a lawsuit against the motorist who caused your accident, you and your family can be fully compensated for your losses. While financial reimbursement cannot take away the pain and trauma of your injury, it can help you make as full a recovery as possible and allow you to move on with your life. Filing a claim against the at-fault party may also grant you closure and deter the at-fault party from driving recklessly in the future.
Damages that you may be eligible to receive compensation for include:
Any medical expenses related to your accident, including hospitalization, surgeries, medications, physical therapy, counseling, at-home care, and more
Lost wages if you have to take time off work or quit your job
Pain and suffering you endured as a result of the accident
Repair or replacement costs for property damage done to your motorcycle
In the event a loved one was killed in a motorcycle crash, you can also receive compensation for funeral and burial expenses as well as death benefits.
Looking for a motorcycle accident lawyer in Bonita Springs?
David Pittman has been riding motorcycles since the age of fourteen, and he knows that riders are often targeted with negative stereotypes as risk takers or daredevils. On the contrary, most motorcyclists habitually ride defensively, fully aware of the potential for injury or death in an accident.
Automobile drivers at fault in a large percentage of collisions with motorcycles should be held accountable for the injuries they cause. Whether the driver was drunk or distracted, was driving recklessly or simply failed to yield the right of way while changing lanes or turning, we will investigate your case to find the necessary evidence to support your claim, and will work tirelessly to help you secure the largest possible settlement.
David Pittman also takes pride in making sure the insurance companies understand the different consequences of an accident to a motorcyclist or passenger on a motorcycle. Contact Pittman Law Firm, P.L. today to get started on your personal injury case.